Forte Tax & Law » News » Robert Gurdyumov spoke about the upcoming VAT increase at a meeting held at the Finnish-Russian Chamber of Commerce
Robert Gurdyumov spoke about the upcoming VAT increase at a meeting held at the Finnish-Russian Chamber of Commerce
A meeting of the Financial Club was held last Friday November 23, 2018 at the Moscow office of the Finnish-Russian Chamber of Commerce. The meeting attendees discussed hot topics such as, among others, changes in tax legislation and the thin capitalization rule for loan interest.
Robert Gurdyumov, Senior Associate at Forte Tax & Law, made a presentation on the upcoming VAT increase due on January 01, 2019. Robert described in detail all aspects and consequences of this tax rate increase, referred to its "history" and also spoke about the VAT decrease of 2004.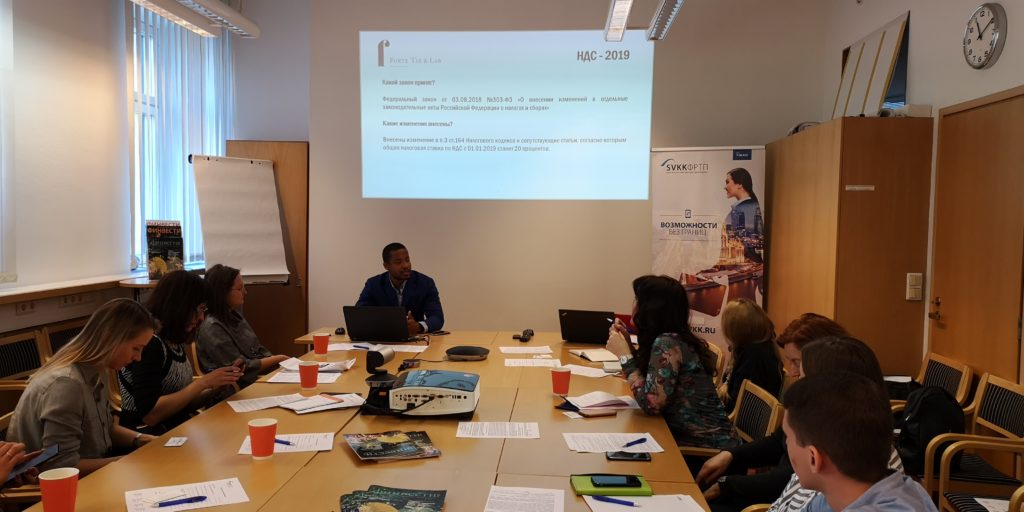 Robert broached topical issues and described what to do in case of 100% prepayment made in 2018 for goods or services to be delivered in 2019. Robert paid particular attention to an issue that gave rise to many questions from the audience which was eager to find out what to do with contract price after the abovementioned VAT increase.
The issue of whether contracts should be amended following the VAT increase from 2019 onwards is still relevant and of great interest so we recommend checking whether the terms of your contracts with counterparties need to be reviewed to protect your interests and minimize risks.